Have political forces hijacked the symbolic event to advance their political ambitions and boost their legitimacy rather than promote true reconciliation within society?
The painful scars of Taiwan's February 28 Massacre will continue to be remembered as a brutal crackdown on unarmed, local Taiwanese who had the simple wish that their voices be heard by their government. The brutality was not limited to one incident. The Kuomintang (KMT) government imposed a 38-year long period of martial law. Estimates vary, but up to 28,000 people are believed to have been executed by the KMT regime, many of whom were political leaders who voiced opposition to Chiang Kai-shek's authoritarian government.
While much of this account of the 228 Massacre is true, the KMT's principal political opponent, the Democratic Progressive Party (DPP), has seized this historical event as an opportunity to mythologize the incident and to establish a permanent locus of ethnic strife and antagonism between mainland Chinese and Taiwanese. In recent years, the DPP has strategically allied itself with the victims of the 228 Massacre and has focused much of its effort in constructing a trauma narrative within Taiwanese culture which serves to further inflate the incident with the purpose of assigning the role of traumatizer onto the KMT and evoking public outrage.
We should, however, ask ourselves whether finger-pointing has ever been an effective means of reconciliation and national healing.
Hijacked by politics?
I want to make very clear that I am in no way attempting to justify the 228 Massacre or to exonerate those who were responsible for the deaths of countless innocents. Instead, I wish to shed light on the way political forces have captured this symbolic historical event to deepen their political power and legitimacy.
Days before this year's Feb. 28 commemorations, President Tsai Ing-wen vowed to initiate a thorough and rigorous investigation into the 228 Massacre to find those responsible for the massacre. On the 70th anniversary of the incident, Tsai said, "We will use the most prudent attitude in seeking those responsible for the 228 Incident." Since then, she has launched a campaign for transitional justice which spans across all government agencies to collect more information about the incident.
I have no issue with a mature examination of the KMT's dark history. It is essential to remember how fundamental human rights have been compromised in the past in order to prevent their repetition. As President Tsai herself remarked at the 228 Peace Memorial Park, "Reconciliation must be built on truth." I completely agree with her in this respect. My worry rather lies in the unspoken ulterior motives and political gains which naturally come with such seemingly noble solidarity with the victims of 228.
The project of assigning blame and responsibility strikes me as a move which seeks not reconciliation through truth but divisiveness through scapegoat politics. And by labelling the KMT as Taiwan's oppressor and source of trauma, I fear the DPP has been manipulating the deep emotionalism attached to the incident in order to further deepen Taiwan's trauma. Postdoctoral fellow Dr. Craig Smith at the American Council for Learned Societies accurately characterizes trauma as "the suffering caused by terrible acts of violence, suffering that persistently endures … trauma remains with the victims for the rest of their lives, forcing them to remember and relive the events over and over again." According to Smith, trauma has the effect of making victims unable to move beyond their affliction; the victims obsess over the incident and dramatize the tyranny it holds over them.
Forces unleashed
Remembering the past can be a very helpful exercise, but what marks the point between remembering and educating about the past, and reliving and fixating on the past? President Tsai has stood firm in demanding justice over the events of 228, and in this way, she reopens a healing wound in her calls for accountability which, in my opinion, borders on a wish for vengeance.
KMT Culture and Communications Committee Deputy Chairman Hu Wen-chi recently argued that the recent rise in pro-independence rhetoric is an intended consequence of President Tsai's transitional justice campaign. Hu suggests that this move is a direct appeal to the DPP base, which consists of people who understandably demand some form of justice.
But perhaps what should be clarified is that most of those who were responsible have already passed away. As a result, KMT supporters generally do not see the transitional justice campaign as a genuine effort to bring about justice. They see it as a concerted political effort to embolden the pro-independence movement and secure the DPP's political legitimacy. A question worthy of serious reflection is: Is it fair to hold a party accountable for an incident that occurred more than 60 years ago?
We can no longer continue to view ourselves as victims of trauma. We are survivors.
The KMT is a vastly different party than what it was in 1947; it is committed to the strength and vigor of Taiwan's democracy. It has renounced and apologized for its role in the 228 Massacre on several occasions. I am not arguing that time heals all wounds, for there should be a serious investigation of human rights violations and movement towards transitional justice in order for real reconciliation to occur. With that in mind, we should also be reasonable with what we mean by "justice." If what the DPP means when it uses that word is burning the Republic of China flag, decapitating statues of Chiang Kai-shek (which have sparked a retaliatory cycle), and throwing eggs at the gates of Chiang Kai-Shek Memorial Hall while shouting "bring down the 228 murderer," I do not think this is the kind of justice that is either conciliatory or a productive use of our energy as a people united in our love for Taiwan [editor's note: the decapitations of CKS statues were carried out buy members of deep-green organizations and not supporters of the DPP, as the author alleges].
As Elie Wiesel rightly said during his 1986 Nobel Peace Prize acceptance speech, "…if we forget, we are guilty, we are accomplices." Let us never forget the 228 Massacre. But at the same time, we must learn to overcome our afflictions, as painful as that process may be. We can no longer continue to view ourselves as victims of trauma. We are survivors.
Top photo courtesy of the Tsai Ing-wen official Facebook page. The opinions expressed in this article are the author's alone and do not necessarily reflect those of Taiwan Sentinel.
Comments
You might also like
---
More from Society & Culture
---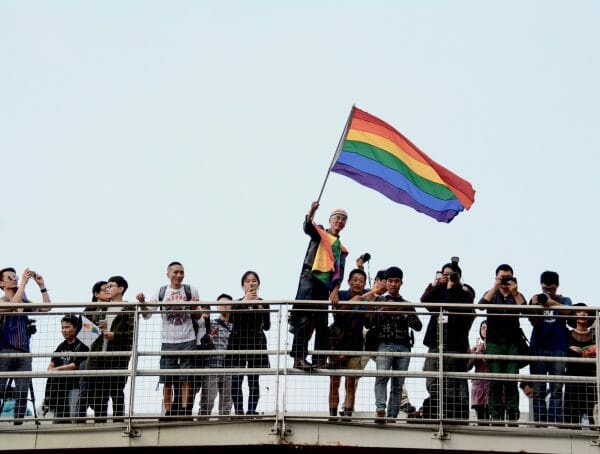 740
Despite the adoption of a new law on May 17, campaigns will continue to legitimize the kind of homophobic discourse …
Editor Picks
---